Tour
Rates
Adults (13 years & older) $12
Seniors (65 & older): $10
Children (6-12 years): $9
Children 5 & Under: FREE
Military & Veterans: $2 off regular-priced admission
Groups of 10 or more: $2 off each regular-priced admission
BASIC TOUR INFORMATION
Tours of the National Presidential Wax Museum are self-guided and on a walk-in basis. Guests wishing to take the tour may begin the tour at any time during our hours of operation (8:30AM to 5PM before Memorial Day weekend and after Labor Day weekend; 8:30AM to 8PM during the summer months). We are open for the 2019 season from April 8th to October 31st. Group tours of 10 or more are also available, with each group member receiving a discount off of regular-priced admission.

HOW LONG IS THE TOUR?
Our self-guided tours are self-paced as well. We find that most guests to the museum spend anywhere from 20 minutes to two hours in the museum, depending on the number of audio tracks they choose to listen to. However, many of our guests simply enjoy looking at each set and taking them in visually. Our unique gift shop gives visitors the opportunity to shop while waiting for the rest of their group to finish the tour.
ARE ANIMALS ALLOWED IN THE MUSEUM AND GIFT SHOP?
We love pets, but only service animals specifically trained to aid a person with a disability are welcome in the gift shop and museum.
WHAT TO EXPECT
At the beginning of the tour, each guest will receive a "tour wand," a device similar to a remote control that allows the holder to listen to short audio presentations about the history behind each scene depicted in the museum. Each scene in the museum is accompanied by a number. To hear the audio presentation for any given scene, simply punch the number into the key-pad on the tour wand and hold the built-in speaker to your ear. Headphones are available upon request for those with hearing disabilities.
Hear it for yourself:
Our educational tour begins with a short video in our theater. Here we tell the colorful story of our founder, Katherine Stubergh, and show you the fascinating artistic process of creating a world-class wax figure. From here guests will enter the main part of the museum where our wax displays are located. Unlike many wax museums, all of our wax figures are portrayed in meticulously-designed scenes recreated from history. See President Nixon welcome the astronauts from Apollo 11 back to earth as they wait in quarantine. Witness Lyndon B. Johnson as he's sworn into office aboard Air Force One following the assassination of John F. Kennedy.
SCAVENGER HUNT
Guests with children can request a "scavenger hunt" from the ticket sales counter. Our scavenger hunt is a series of 20 questions, the answers to which are found by listening to the audio wand or inspecting the historic wax scenes with a keen eye. Kids love to search the museum for clues to complete this mission! Kids can show their completed scavenger hunt at the front counter to receive a free National Presidential Wax Museum button!
OTHER NOTABLE EXHIBITS:
In addition to wax sculpture, our museum features several other unique exhibits including:
Original oil paintings by famed wartime artist, Harvey Dunn. Harvey Dunn is best known for his oil painting "The Prairie is My Garden," his war propaganda posters, and for his illustrations for Harper's Magazine and The Saturday Evening Post.
Controversial Florida voting booths from the contested 2000 presidential election between George W. Bush and Al Gore.
Life-masks and death-masks cast from the actual faces of Napoleon Bonaparte, George Washington, Abraham Lincoln, Ginger Rogers, Mae West, Katherine Stubergh, Amelia Earhart, Bela Lugosi, Buster Keaton, and Sid Grauman. Our Abraham Lincoln life mask was borrowed by Walt Disney himself to create the animatronic Abraham Lincoln in the original Hall of Presidents at Disneyland!
WHAT ABOUT LARGE GROUPS?
Groups of 10 or more people are eligible for $2 off each ticket. Groups of 20 or more are encouraged to make a reservation ahead of time by calling 605-666-4455 or e-mailing contact@presidentialwaxmuseum.com. Please call 605-939-5565 to make a reservation if we are closed for the season.
WHAT ABOUT EDUCATIONAL SCHOOL GROUPS?
The National Presidential Wax Museum makes for a fun and educational school fieldtrip! Students and adult chaperones are only $6 and teachers are FREE! To make a reservation for a school group, call 605-666-4455 or e-mail contact@presidentialwaxmuseum.com. Please call 605-939-5565 to make a reservation if we are closed for the season. School groups are tax exempt with proof of tax-exempt status.
IS THE MUSEUM HANDICAP ACCESSIBLE?
Yes! Our museum and gift shop is all on one level and easily accessible from the parking lot. Wheelchairs are available upon request.
---
Also Visit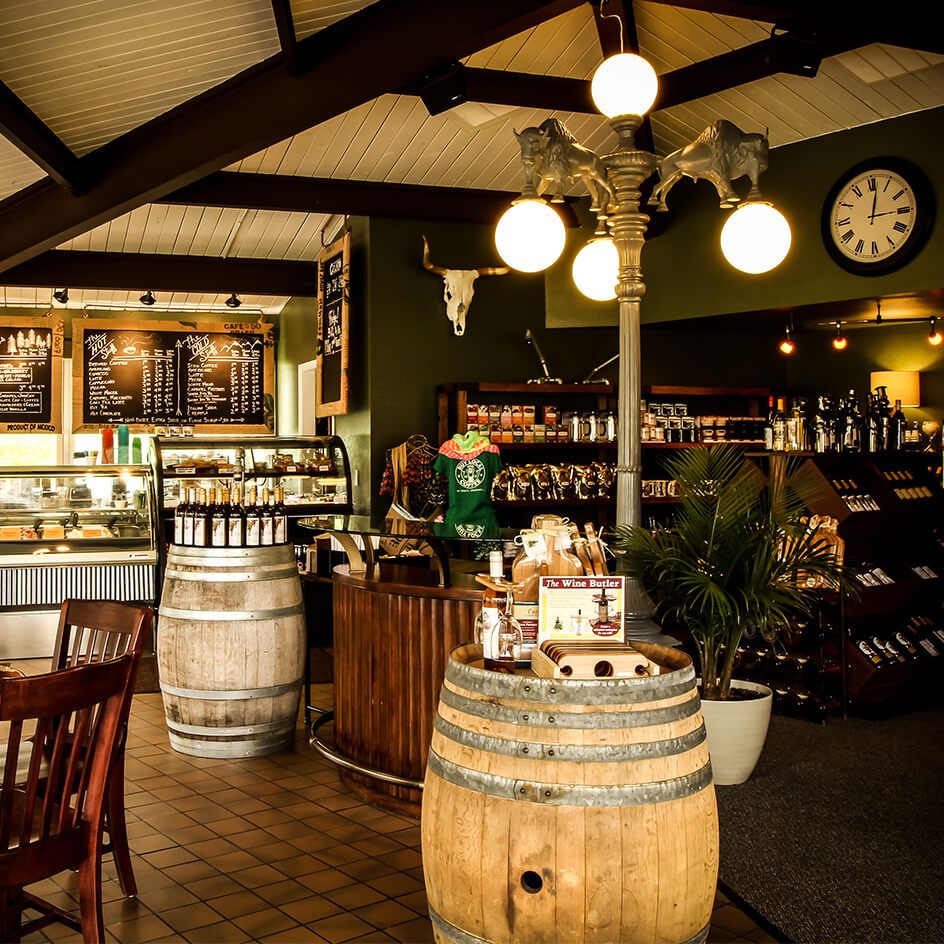 Grapes & Grinds
At Grapes & Grinds, our passion is pretty clear. We're in business to serve the wine drinkers and coffee connoisseurs of the Black Hills, and we're pleased to have you join us.
Located in the heart of Keystone, we offer the perfect setting whether you're just starting your morning or unwinding after a full day in Hills. Stay in touch with your friends and family with our free Wi-Fi connection.