Book your tickets to the National Presidential Wax Museum - Enter your Dates Below!
History
FOUNDING
The National Presidential Wax Museum was founded in 1971 by famous Hollywood wax sculptor Madame Katherine Stubergh and renown movie set designers Don and Bonnie McPhee. It had always been a dream of Madame Stubergh's to create a museum dedicated exclusively to the United States Presidency and considered it the capstone of her prolific career. Originally named the Parade of Presidents Wax Museum, the National Presidential Wax Museum is the only wax museum in the world to feature every U.S. President.

KATHERINE STUBERGH
Born in 1911 to German wax mannequin makers, the young Madame Stubergh wanted nothing more than to be a classically trained dancer; however, her astounding natural skill in wax sculpture and pressure from her family led her to abandon her dancing dreams and focus on developing the family business.
As Katherine's skill and fame grew, demand for her wax figures skyrocketed as the silver screen film industry began to increasingly rely upon wax figures for the purposes of stand-ins and extras in films. During this time, nearly every name on the Hollywood A-list sat for Katherine in her studio as she assessed their figure and made face and body measurements – the first step in creating a wax figure. In fact, W.C. Fields and John Barrymore would regularly show up drunk to Katherine's studio on Hollywood Boulevard, drawn by Barrymore's keen fascination with her work.
Today, Katherine's work can be seen in House of Wax, Gone with the Wind, Charlie Chan and the Wax Museum, Abbot and Costello Meet Frankenstein, House of Wax, The Frozen Ghost, and countless other classic Hollywood movies. In today's world of wax, Stubergh sculptures are still among the most sought after and valuable wax figures and are regarded by many as the most enduring and iconic relics of the golden age of wax sculpture.
Upon her Hollywood retirement in 1970 the Stubergh Studio was sold to Ripley's International. Around this time Katherine's apprentice, Henry Alvarez, is said to have found a black and white photo of Katherine with "I'd rather be dancing" written on the back in Katherine's handwriting – a haunting reminder of the tragic irony of Madame Stubergh's legacy.
CHANGES IN OWNERSHIP
During the presidency of Ronald Regan, Madame Stubergh and her husband Tom, sold the museum to Jack and Mary Anne Riordan who would run the museum for over a decade. Upon Mary Anne's passing in 1997, the museum, then called "Parade of Presidents Wax Museum" closed its doors and sat vacant for the next three years, inhabited only by its nearly 100 wax residents. In 2000, the museum was purchased by KCJ Enterprises and after extensive renovations reopened under the name The National Presidential Wax Museum. Today the museum continues to build upon Katherine's dream by adding new and exciting exhibits for every new president as soon as they are elected.
HENRY ALVAREZ
After Katherine's passing in 1996, subsequent wax sculptures in the museum were created by Katherine's mentor Henry Alvarez. Henry had been creating wax figures since 1968 when he answered an ad Katherine placed in the newspaper for a job making paper mache figures. For three years, Henry learned the intricacies of wax sculpture under Katherine's careful tutelage. In 1970, Katherine sold her Los Angeles studio to Ripley's International, and Henry was hired by the new owner as a production manager until 1986, when he opened his own wax studio, Alvarez Wax Productions. From 1986 until his death in 2012, Henry created numerous wax figures for the National Presidential Wax Museum, including Ronald Reagan, Jackie Kennedy, George, H.W. Bush, Bill Clinton, George W. Bush, and Al Gore. Henry's sculptural work can be seen in many 80s films, including The Thing, Legend, Bugsy, Total Recall, and all three Robocop films.
JETHRO CRABB
Today, new wax figures in the museum are the creation of award-winning master wax sculptor, Jethro Crabb and his team of highly-specialized wax artists. English native and graduate of the Wimbledon School of Art in London, Jethro worked eight years as a freelance wax sculptor for London's prestigious Madame Tussaud's wax museum before starting his own company, Sculpture Commission. Jethro's wax figures are regarded as some of the most realistic wax figures ever created. As a renown wax sculptor, Jethro has led teams on trips to the United States, Europe, Australia, and Asia to visit, measure, and photograph famous celebrities, some of which include Brad Pitt, Meryl Streep, and Anderson Cooper.
Jethro Crabb's wax figure of newly elected president Donald Trump was unveiled in May of 2017 and has been met with critical acclaim and is believed by many to be the most realistic wax figure of President Trump in the world. More of Jethro's work can be seen at www.sculpturecommission.com.
*Historical background provided by Timothy Randall and David Cellitti of Waxipedia. More information on the life of Madame Stubergh can be seen here.
---
Also Visit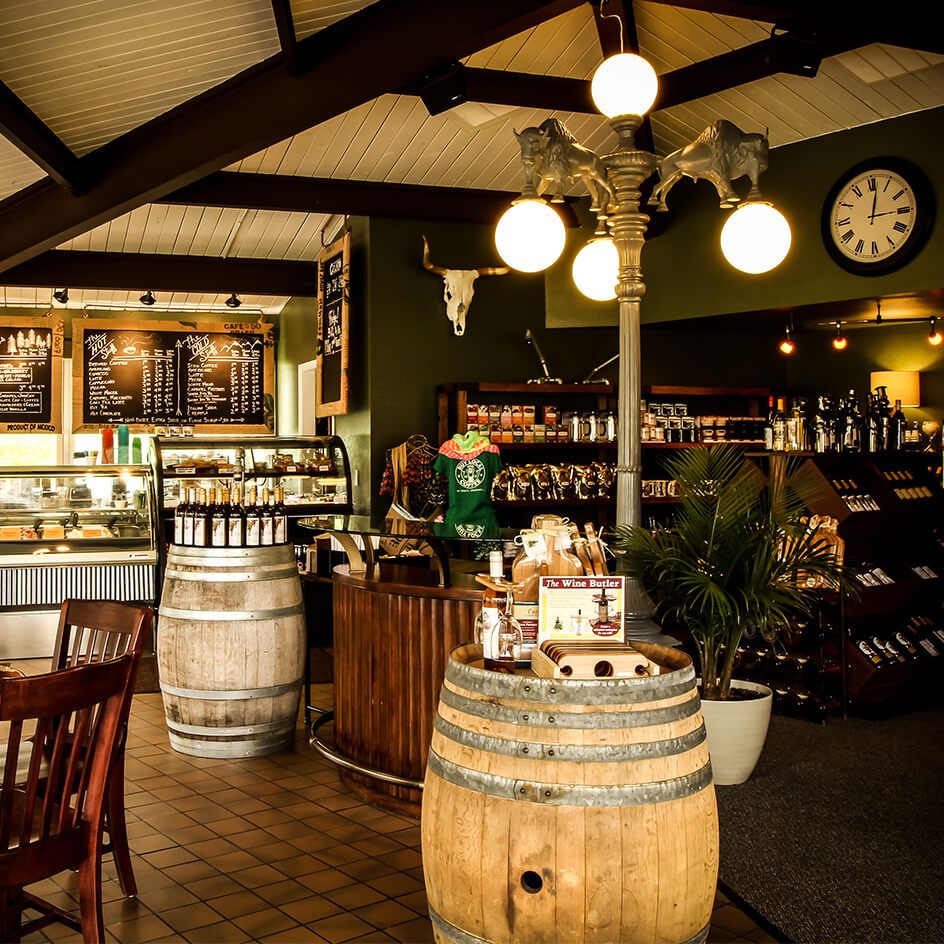 Grapes & Grinds
At Grapes & Grinds, our passion is pretty clear. We're in business to serve the wine drinkers and coffee connoisseurs of the Black Hills, and we're pleased to have you join us.
Located in the heart of Keystone, we offer the perfect setting whether you're just starting your morning or unwinding after a full day in Hills. Stay in touch with your friends and family with our free Wi-Fi connection.